Manage HR Activities
October 12, 2022
DHS Extends Two Important I-9 Deadlines That Were to Set to Expire on October 31
By John Fay
For HR representatives across the US, October 31, 2022 promised to be a very scary occasion (for reasons that had nothing to do with Halloween).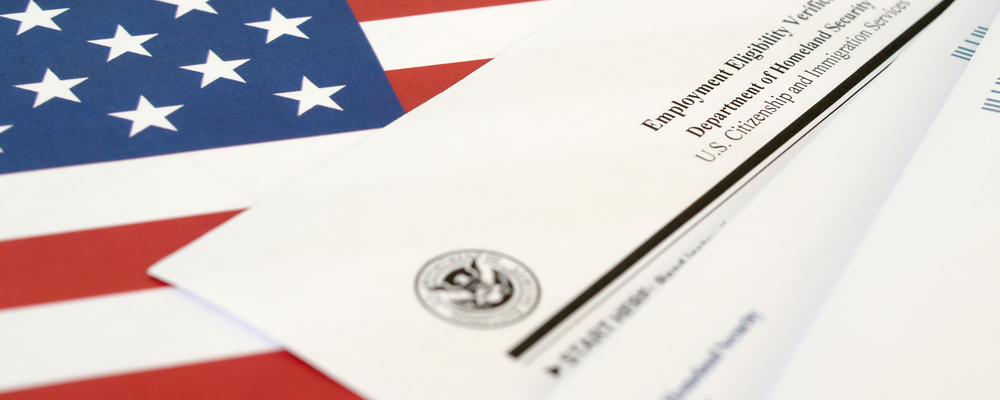 During the past couple of weeks, employers have been anxiously monitoring two I-9-related deadlines that could significantly impact their I-9 initiatives. Cue scary music.
First, we have the expiration of the Form I-9 itself. If you've recently completed an I-9, you may have noticed that the current edition of the form has an October 31, 2022 expiration date printed in the top right corner along with an OMB (Office of Management and Budget) control number.

Why is this important? Well, as a form approaches its expiration, the agency will often choose to revise the collection of data and issue a new proposed form. And sure enough, the Department of Homeland Security (DHS) is considering a pretty large overhaul of the form, and employers have been wondering whether a "surprise I-9" was going to be waiting for them on October 31.
And if that's not enough, employers have also been closely monitoring the expiration of the government's "relaxed" remote I-9 inspection policy (often referred to as virtual verification), which was also slated to expire on October 31, 2022. Thousands of employers have been using virtual verification during the pandemic to complete I-9s for new hires who are working from home or elsewhere as a result of COVID-19 related precautions.
However, HR can now breathe a huge sigh of relief, because both of these deadlines have been extended by DHS as described in more detail below.
DHS instructs employers to use the "current" Form I-9 past its expiration
Early this morning, DHS sent an email to various stakeholders, informing them that employers should continue using the current version of the Form I-9 (with a 10/21/19 edition date) after its expiration on October 31, 2022 until further notice. The agency also indicated that they would publish a Federal Register notice to announce the new version of the form once it becomes available for use.
While using an "expired" form may seem risky (especially for those of us in the immigration field), this approach is actually very consistent with DHS policy decisions for previous Form I-9 revisions. And as mentioned, the agency is planning some significant changes to the form, so it certainly makes sense that the review process (in OMB) may take a little bit longer.
So what can employers do now to prepare for the new form when it's released? Here are three recommendations.
(1) Employers should familiarize themselves with the changes: at a high level, the Form I-9 will be undergoing a pretty big structural revision, some contemplated changes might include Sections 1 and 2 now being condensed (once again) onto one page; a reduction and simplification of the Form I-9 instructions; and new "supplements" for both the preparer/translator certification and rehire/reverification events (what was formerly known as Section 3). In the coming weeks, we'll be providing more detailed guides outlining the various changes to the form as details become available.
(2) Update your Form I-9 "SOPs" and other training materials: in addition to the structural changes mentioned above, employers will also want to update their standard operating procedures (SOPs) for anyone inside (or outside) the organization who may be touching an I-9 in the future. For example, under the proposed revision, employers will no longer need to write "N/A" in blank areas of the form, but may still choose to do so for certain fields for internal auditing purposes. Ensuring you have a well thought-out (and consistent) policy will go a long way in helping prevent possible discrimination issues.
(3) Consider moving to a smart electronic I-9 solution: a well-designed system will not only incorporate the latest changes to the Form I-9 but also help you implement and enforce a wide variety of "rules" across your organization including document retention, rehire processing, and reverification tracking to name just a few. Electronic I-9 systems can also be "version-aware" – helping enable you to audit and identify past I-9s that were completed on a prior edition.
Virtual Verification Extended (once again) until July 31, 2023
Separately, Immigration and Customs Enforcement (ICE) announced an unprecedented nine-month extension of their remote I-9 inspection allowance – enabling employers who are taking physical proximity precautions due to COVID-19 to continue inspecting I-9 documents remotely for their newly hired employees and reverifications of work authorizations until July 31, 2023.
As before, employers must remember that this remote I-9 inspection policy only provides a temporary "deferment" of the in-person requirement in order to help employers onboard their new hires in a safe and efficient manner. As briefly recapped below, the virtual verification policy requires that employers eventually meet with the employee in-person to physically examine those documents.
I-9 Virtual Verification Recap
Eligibility: virtual verification can be used for new hires who are working exclusively in a remote setting due to COVID-19-related precautions.
Requirements:
Employers using virtual verification must adhere to the following requirements (described in ICE's original policy and subsequent USCIS updates):
Develop and maintain written documentation of the remote onboarding and telework policy
Adhere to the standard I-9 timing requirement, which for new hires means ensuring that the I-9 is completed (both Sections 1 and 2) within 3 days of the employee's start date, and for reverifications, ensuring Section 3 is completed before the employee's work authorization expires
Inspect the documents remotely using video, email, fax, or similar methodology (e.g., secure upload)
Maintain copies of the documents inspected remotely
Write "Remote inspection completed on xx/xx/xxxx" in the Section 2 Additional Information box or Section 3 for reverifications
Keep track of all I-9s that have been completed using virtual verification to ensure the required follow-up (physical inspection)
Once the virtual verification policy ends OR an employee commences non-remote employment on a regular, consistent, or predictable basis (whichever is earlier), coordinate the in-person meeting and physical inspection of the document(s)
Annotate the Form I-9 to record the physical inspection.
Permanent Virtual Verification on the Horizon?
Lastly, the government has proposed a new framework for virtual verification that would enable the DHS secretary to authorize alternative options for document examination procedures in the future. This new "permanent" virtual verification policy would likely include some new employer requirements, such as mandatory E-Verify participation, document/image retention requirements, and possibly required DHS training or certification on reviewing identity and work authorization documents.
But at this point, it's still just a proposal that is open for debate.
---
The information provided is intended as general guidance and is not intended to convey any tax, benefits, or legal advice. For information pertaining to your company and its specific facts and needs, please consult your own tax advisor or legal counsel. Links to sources may be to third party sites. We have no control over and assume no responsibility for the content, privacy policies or practices of any third party sites or services.